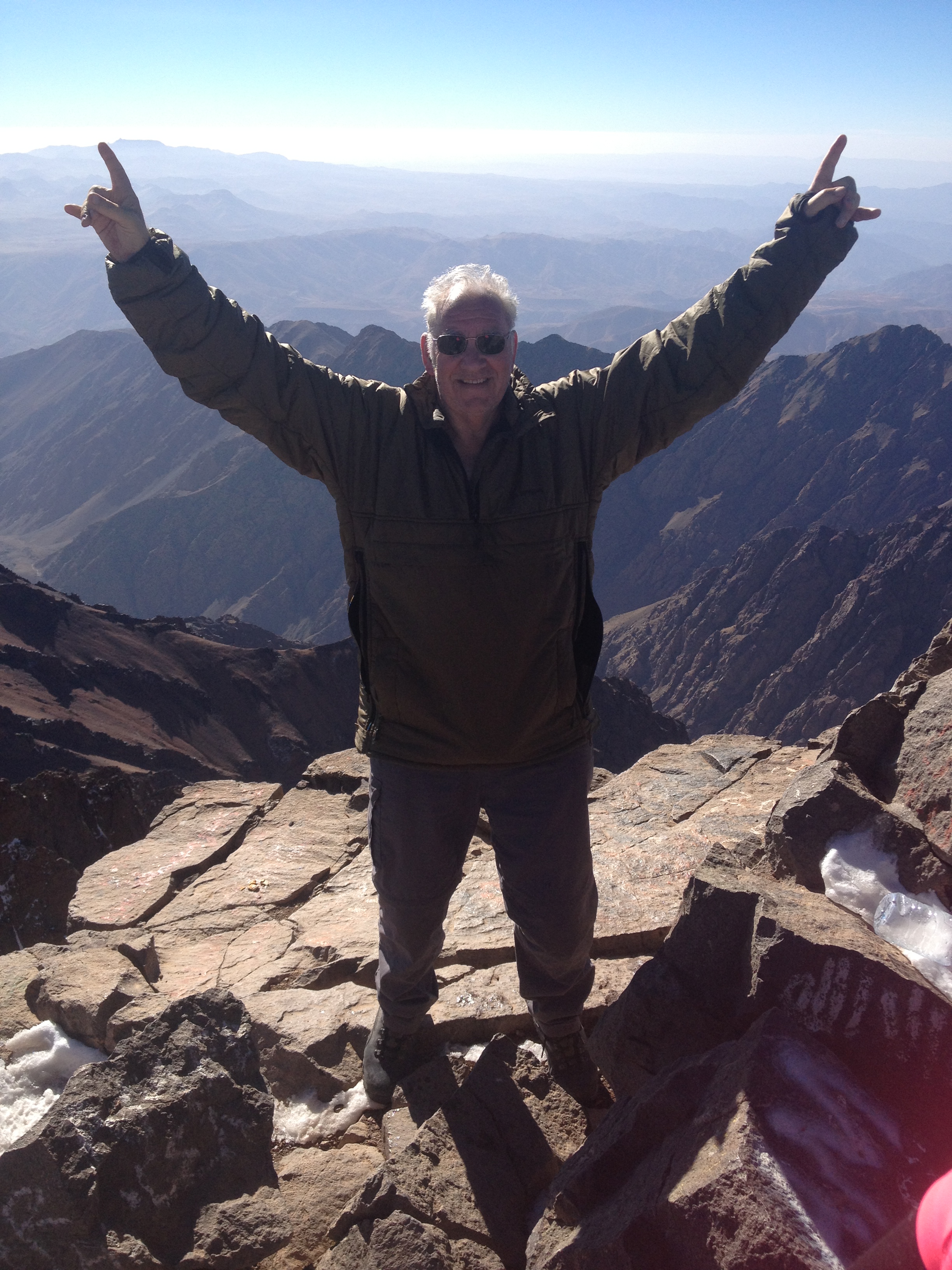 Mt Toubkal 4,167m and High Atlas Mountains, Morocco Oct 2013
We were a very mixed and friendly group of 7; three men – me, Benno and Adam and 4 ladies, Lesley, Julie, Annabelle and Kay.
On arrival at Marrakesh Airport our old friend and team leader Stephen Pinfold with his local right hand man Ibraham Amzil were there to meet us.
A people carrier picked us up, from our hotel in Marrakesh; transporting us up to the start of our trek on the High Atlas Mountain range. Dropping us and our entire luggage off in what seemed the middle of nowhere.
Steve and Ibraham, instructed us to repack what's needed for the 6 day trek.
The highlight of the Day was the discovery ,amongst the 'necessary kit' required for trekking over the Atlas Range of mountains, of a hairdryer and set of straighteners!
Our gear was to be transferred to the next mode of transport; Sherpas in the Himalayas- Porters in Africa and Mules in Morocco
The Mule is a multi-functional donkey/horse hybrid. They are strong, sure-footed and enjoy a ruggedness that has made them indispensable and fundamental to life in the Atlas Mountains.
In three days of trekking in the Atlas Mountains we came across only three other couples. Our trek started in Imlil Valley at a modest altitude of around 2,000m. The terrain at this altitude has a Mediterranean feel with dusty red earth thick with gnarled juniper bushes, wild mint and thyme. Continuing on we ascending over 3000m; witnessing many more amazing photo opportunities.
After a long days trekking uphill we arrived at an Alpine style refuge (3207m) and stayed over night. Leaving the Refuge, our route zig-zags up the South Col, a long and fairly steep scree slope to the Tizi-n Toubkal pass (3950m)
After 3hrs of strenuous climbing the snow thins out and we reach the bare rocky ridge at last. Underfoot is slippery and the path edges alongside sheer cliff faces; as the path winds its' way up we get our first proper sighting of the metal pyramid that marks the summit of Mt Toubkal.
From the roof of North Africa we looked out over the surrounding High Atlas Range to a panorama of craggy peaks, rows of rocky ridges interspersed with snowbound valleys opening themselves to us.
In contrast, southwards, stretched the Sahara Desert, an unforgiving land; you could see various hues of orange and yellow of its dunes.
This remarkable backdrop sparked my attention; I stored the vision for later consideration!