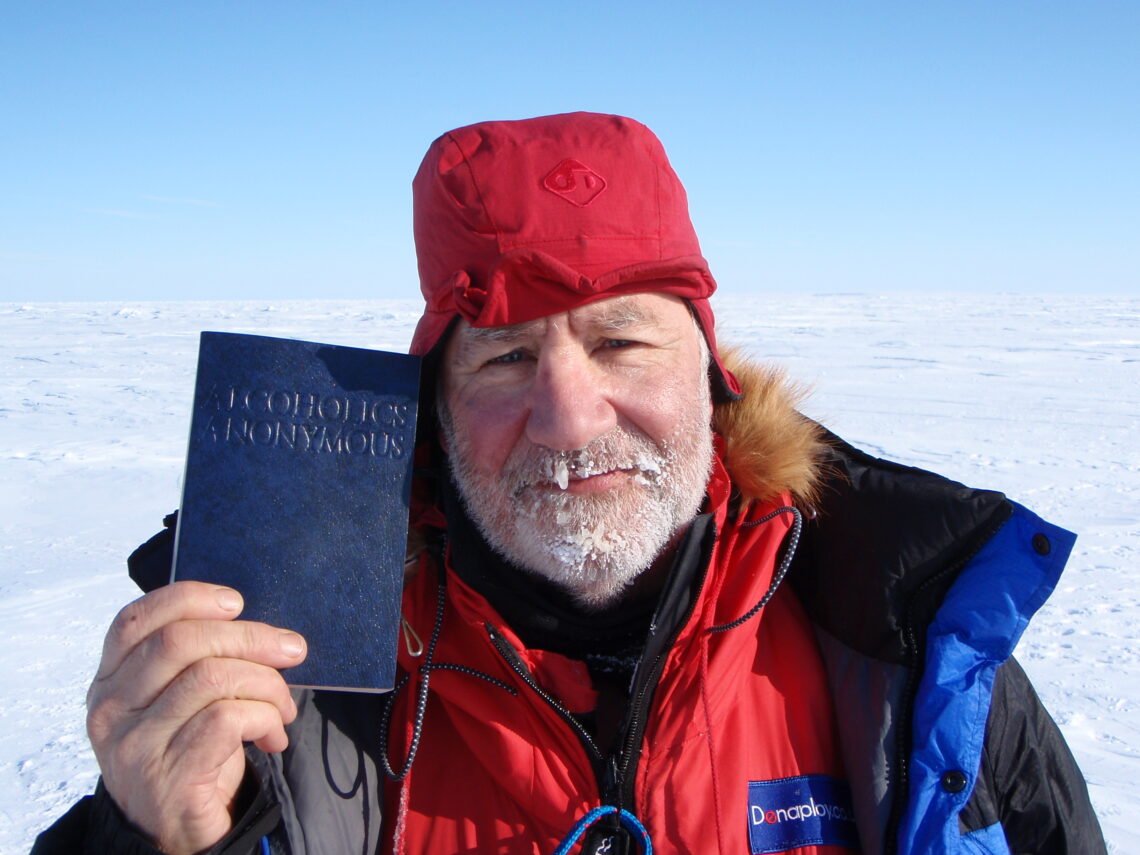 It's more than merely a book; it's a source of inspiration.
An old friend, 'Belfast Archie', suggested I take the Big Book with me to the top of the world. It is the story of how tens of thousands of men and women have recovered from alcoholism. The basic text was written in 1939 by Bill W, with support from Dr Bob. It's more than merely a book. It's more a way of life. It has served as a lifeline to millions of drunks worldwide, helping them to recover from alcoholism. It is a fellowship of men and women who share their experience, strength and hope with each other, so they may solve their common problem and help others to recover from alcoholism. Our primary purpose is to stay sober and help other alcoholics to achieve sobriety; it has undoubtedly helped numerous loners whenever they've found themselves in a isolated place or situation.
Big Book
This particular Big Book was sent to me from the USA by Tim M, an old and very close chum, signed by himself and his wife Lucy. Not only did they sign it but they also added a few supportive and warm comments. Many more of my friends here in the UK also signed it, wishing me well and adding uplifting comments and some clever illustrations. Amongst the friendly gang contributors were Michael B, Jimmy M, Archie C, Gerald G, Miss B, Kate, Pete M, Geoff T, Ian K and many more. The plan was for me to carry this unique, customised Big Book all the way across the frozen waste, over pressure ridges, through huge mounds of ice rubble, dragging myself and my pulk with its precious cargo northwards, regardless of white-outs, ice storms, the constant threat of polar bears and probably over a thousand miles from the nearest fellowship meeting.
On reaching the North Pole I was to leave my Big Book in a specially prepared sealed container, a seriously naive but well-intended gesture.
However – Once I was out on the ice, major stumbling blocks became apparent!!!
The Magnetic North Pole is not marked by a pole conveniently stuck in the snow.
The North Pole is situated on the Arctic sea ice, which constantly moves and melts.
The area Arctic sea ice covers averages, in the springtime, approximately 14.43 million square kilometres (5.57 million square miles) – plenty of room to get lost.
Luminous orange was the colour we decided for the Big Books'container, so when anyone visiting or if someone just happened to be 'passing by' they would immediately spot it and enjoy the opportunity to read it.
Who the **** will be passing by?
Today, with Global warming if I had left the book it would be resting more than 4000 m (13,123 ft ) down on the Arctic Ocean's seafloor.
I had become physically, mentally and emotionally attached to my Big Book; I carried it back home, it lives with me…..