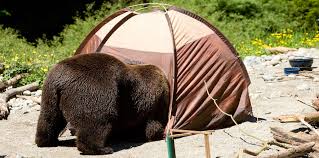 My, not so secret tips on Tent Etiquette
Keep the inside your tent clean and tidy, OCD works!
Take your shoes/boots off before you get in the tent
Change your socks daily
Respecting personal space and quiet times
Establish a routine to share tent tasks
Personal hygiene; breathe, pits and private bits!!!
Weakest bladder nearest the door/flap
My, not so secret tips on the Trail Etiquette
Leave No trace, only footprints
Be prepared to share
Make an effort to be friendly and talk to everybody
Dispose of all trash properly
If nature calls – leave the trail & bury
Paper, grass or leaves for hygiene
What to bring when hiking – a smile and a kind word!
My, 'not so' secret Toilet tips in the Cold
Boys – Pee with the wind at your back!
Girls – Pee facing the wind!
All poo facing the wind!
If using a bucket, when you've finished, give it a couple of firm taps with your foot to let the poo come to rest; this will prevent a frozen stalagmite of poo from forming.
*You, nor your colleagues, want a frozen surprise on the next visit…